Learn more about Radar's history
09.01.2023
We invite you to read on!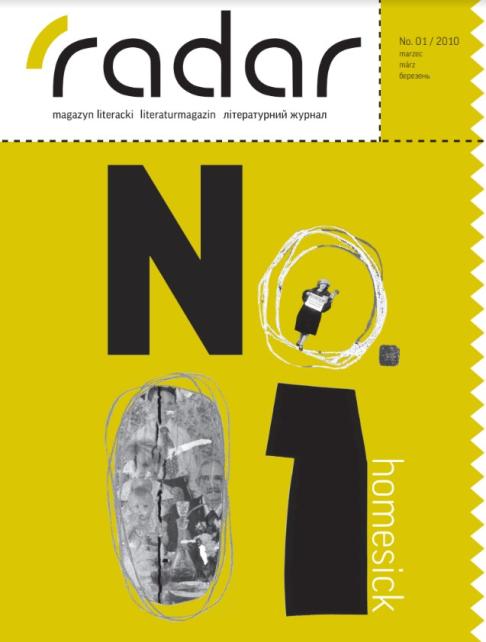 "Radar" is an international literary magazine published in German, Polish and Ukrainian, published at Villa Decius from 2010 to 2014. The idea behind "Radar" was to create a common space of dialogue for writers from different parts of Europe holding literary residencies at Villa Decius. Through the topics covered in its pages, "Radar" witnessed many historical events important for these countries, but also in a broader perspective for Europe as a whole. The magazine's innovative trilingual format was particularly aimed at presenting a tripartite perspective of experiences shared by Poles, Germans and Ukrainians.
The question accompanying the first issue of the literary magazine "Radar" was: "Is it possible to have one literature of three nations?" The creators of "Radar" in 2010 came out with the assumption that the literature of three neighboring nations essentially creates a coherent picture of reality. The foundation of the first issues of the magazine was laid by the experience of the Villa Decius Association's "Homines Urbani" scholarship program, joint trips of the authors-scholars to Berlin and Lviv, as well as participation in international festivals.
So far, 10 issues of "Radar" have been published, the magazine has featured their literary texts by, among others: Ksenya Kharchenko, Serhiy Zhadan, Ursula Kiermeier, Igor Stokfiszewski, Birgit Bauer, Robert Ostaszewski, Malgorzata Buchalik, Iyryna Khadarenka, Natalia Sniadanko, Ostap Slyvynsky.
After nine years since the publication of the last issue of "Radar" magazine, we decided to prepare a unique trilingual (Polish-Ukrainian-German) publication, which refers to the previous issues of "Radar" published in 2010-2014. In the pages of the new issue, we invited people who created "Radar" years ago: authors and actresses, translators and translators, grantees and scholarship holders of Villa Decius. 
The special edition of Radar will be published on January 17, 2023, thanks to financial support from the Stabilization Fund for Culture and Education of the German Federal Foreign Office and the Goethe-Institut.
For more information on the release of the latest edition:
https://willadecjusza.pl/en/news/home-time-change
In the meantime, we have prepared for you electronic versions of archival issues of "Radar".
We invite you to read them!