Conference Centre
Villa Decius is an unusual place, unlike any other conference space. The palace's historic renaissance interiors, each with its history and original décor, give a unique character to the events taking place here at any time of the year!

Moreover, your guests have the opportunity to visit Villa Decius with our guide.


Here you will find:

✅  halls for weddings and family parties

✅  conference rooms

✅  intimate and elegant rooms for business meetings

✅  halls for the organization of cultural events, such as concerts, meetings, exhibitions, workshops

✅  terrace overlooking the park

✅  parking lot

By organizing events at the Conference Center, you become the Patron of Villa Decius in support of its educational and cultural projects. 

The Conference Centre Villa Decius is a wonderful Renaissance palace and a park situated near the centre of Krakow. This is an outstanding place where you can organise elegant receptions and sumptuous banquets, but which is perfect also for business meetings far from the city rush and offers comfortable conditions for work during training sessions, conferences and workshops.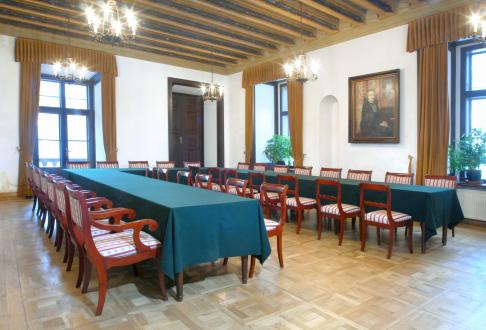 The stylish setting of historical rooms and the wonderful surrounding park offers inimitable style and exceptional character to every event.