Jappy Julia's Crappy Cookbook
31.10.2022
Culinary and artistic happening at Villa Decius.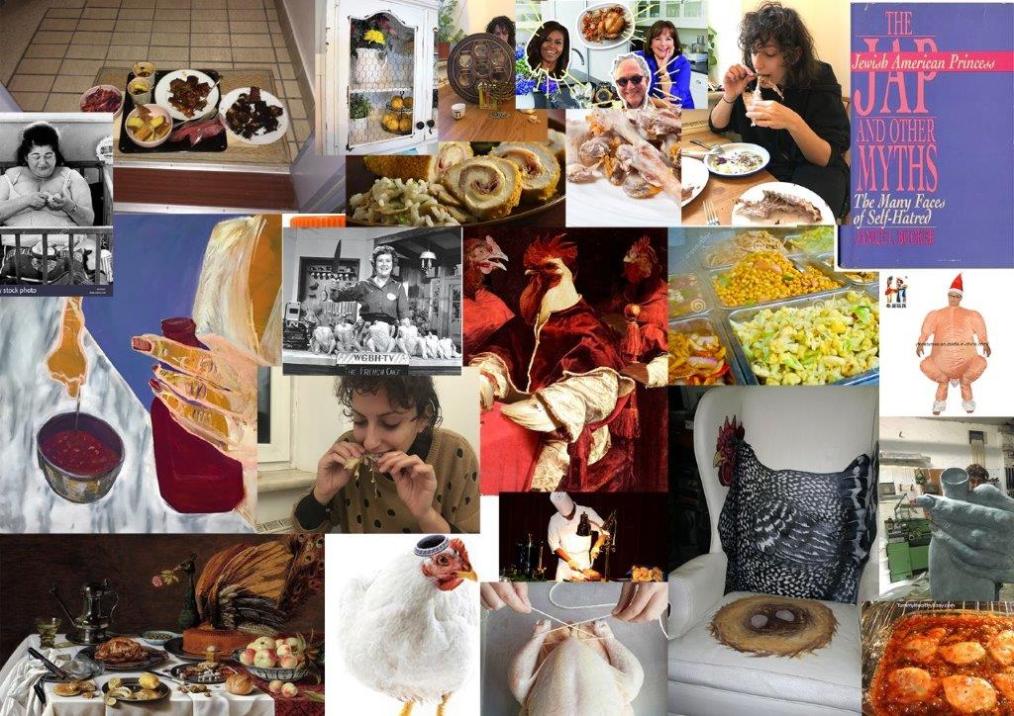 "Jappy Julia's Crappy Cookbook: If you can't say it with words, say it with chicken" - culinary and artistic happening at Villa Decius.


In autumn 2022, as part of an Artistic Scholarship organized in partnership with the Consulate General of the Republic of Austria in Krakow, under the "On the Road Again" project, Villa Decius was visited by Julia Goodman and Gabriele Edlbauer, artists working in duo, who are currently carrying out a project dedicated to the traditions of Galician cuisine. The result will be an artistic cook book in which Galician recipes will be connected with visual works of art.
During their stay at Villa Decius the artists  prepared the culinary and artistic happening "Jappy Julia's Crappy Cookbook. If you can't say it with words, say it with chicken" - inspired by Galician chicken recipes.


"Most major memories in my life involve chicken. Mustard chicken, apricot chicken, Russian chicken, roast
chicken, schmaltz with onions, chopped chicken livers on challah bread and of course the queen of all chicken
dishes, matzoh ball soup. Like in most Jewish families, mine was predominately fed by the women of the
house.
As I moved to Austria in 2015, all those chicken recipes and my not-so-secret chicken habit followed me here.
While gnawing on chicken bones, I got to talking with my wife, artist Gabriele Edlbauer, about the significance
of certain foods to our identities. We've spoken numerous times about the differences in not only our
upbringings, but those of our families: mine, mostly Polish or Ukrainian Jews escaping to America in the
early/mid 20th century, and hers, Upper Austrian farmers contending with the horrors of Nazism tearing apart
their families.
And so, our intention is to create a cookbook, in an artistic way, featuring chicken recipes that relay particular
emotional messages. These emotions may not only be in the recipe, but also in other artistic expressions:
plating, tables, chairs, lighting. Our sculptural and painterly expertise will be used to frame and enhance the
dishes" -
explains Julia Goodman the idea of the project.


We invite you to see the results of their culinary and artistic happening at Villa Decius.

Happening "Jappy Julia's Crappy Cookbook"
9 zdjęć
"Some time ago, we watched American celebrity chef Ina Garten explain that the first time she served her then boyfriend her now infamous roast chicken, he immediately proposed to her. Years later when she published the recipe for the dish, she kept receiving letters from home-cooks who had made the chicken and, as a result, had gotten a proposal by their respective partners: the unofficial engagement chicken was born.
We became fascinated with the idea of how food, and in particular, how chicken can communicate feelings that are often hard to put into words.
Growing up in a Jewish household, where chicken was the star of so many holidays and weekly Shabbat celebrations, Julia at that point was already known as the chicken queen amongst our friends in Vienna. Sitting at the hairdresser three years ago, we were basically laying the groundwork and even the title for "Jappy Julia's Crappy Cookbook: If you can't say it with words, say it with chicken".  JAP, by the way, is an acronym for Jewish American Princess.
We started to dig into different recipes from Julia's family, because, believe me, there is so much to cook and emotionally unpack. Investigating Julia's family's connection to chickens at the same time put my very own Upper Austrian family's history with food into a new perspective and comparing notes on the role of food in our upbringings became a central point of discussion in our chicken recipe development.
When we read the call for "On the Road Again", the project and funding which luckily brought us here today, we were immediately fascinated by the idea of not only using and tweaking old family recipes, but also going to the actual places and eating the actual food of where Julia's family once took off to make the journey to the US: a region which is now partially in Poland, partially in Ukraine.
When we first arrived here, our project coordinator from Villa Decius was very supportive and tried helping us with all kinds of information about books and libraries and museums and so on, but, maybe to his confusion, all we asked for were restaurant recommendations. Once we even convinced him to go to the local specialty food store and answer the question "what is this?" at least 50 times.
When we took the train back to Austria in April our bags were full of jars, bottles and even books and magazines, and our clothes smelled of the traditional polish smoked plum. And we're very excited to feed you the outcome of our research in the next course.
When we put together the menu for today, we realized that some of our emotional chicken recipes, like the one for "I love you" or "Let's take things slow" aren't really meant for a group declaration, but a rather more intimate setting.
A special thanks to everyone at Villa Decius including the generous and lovely restaurant staff, the Austrian Consulate in Krakow, the Austrian Ministry of European and International Affairs and the brain and heart behind the project "On the Road again": Simon Mraz." -
said Gabriele Edlbauer to sum up
the residental stay at Villa Decius and presenting its results.
More about Artistic Scholarship of Villa Decius Institute for Culture: