Carabinieri on guard of cultural heritage
15.11.2022
The meeting with Roberto Riccardi is behind us.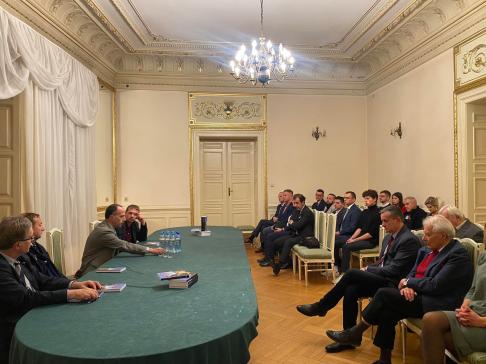 Telephone message from the Urbinio Company. On February 6, 1975 in Urbinio, between 00:30 and 2:30, unknown persons brought in three paintings from the Ducal Palace, including one by Raphael entitled Portrait of a Young Lady and two paintings by Piero della Francesi depicting the Flagellation and Madonna di Senigallia. The value was considered priceless. Group commander, Company commander on the spot. Transfers Capt. Battista, receives Capt. Aquilio. 5.05 [...] A few modest lines of communication, half a page in total, and the world turns upside down.
- quoted in R.Riccardi, "Detective dell'arte. Carabinieri on the Guard of Cultural Heritage", (University of Gdansk Publishing House, 2022, translated by Hanna Kostolowska)
The meeting with Brig. Gen. Carabinieri Roberto Riccardi, commander of the Carabinieri special unit for combating crime against cultural heritage, which took place last week, November 8, in Krakow, in the Representation Rooms of the Larisch Palace at 12 Bracka Street is behind us . Among the guests invited to the meeting were directors of Krakow institutions, representatives of the uniformed services, academics, students and people interested in the subject of cultural heritage, previously participating in workshops and training sessions conducted by Villa Decius.
A meeting with the author of the book entitled. "Detective dell'arte. Carabinieri na straży dziedzictwa kultury", was organized by the Villa Decius Institute for Culture in cooperation with the University of Gdansk and the Faculty of Law and Administration of the Jagiellonian University.
In his career, Gen Riccardi has been involved in all the high-profile cases of crimes against Italian works of art, working undercover operations and chasing criminals all over Europe.
During his speech, Carabinieri Brig. Gen. Roberto Riccardi shared with the audience his experience of Carabinieri activities, referring to specific incidents of theft of works of art both from museums, galleries and churches, as well as from illegal archaeological excavations.  In the second part of the meeting, Gen. Riccardi answered questions from the audience, including what conditions must be met by a Carabinieri candidate aspiring to get into a special unit for the protection of cultural heritage, what dimensions of punishment await the most serious crimes related to the theft of cultural property, and how the Italian Carabinieri unit cooperates with other institutions dealing with this subject, both at the European and local levels.
We encourage you to read. The book is available on the website of the University of Gdansk Publishing House:
https://wydawnictwo.ug.edu.pl/produkt/detective-dellarte-carabinieri-na-strazy-dziedzictwa-kultury/