Uładzimir Niaklajeu
The resident of the International Cities of Refuge Network ICORN for the years 2021-2023.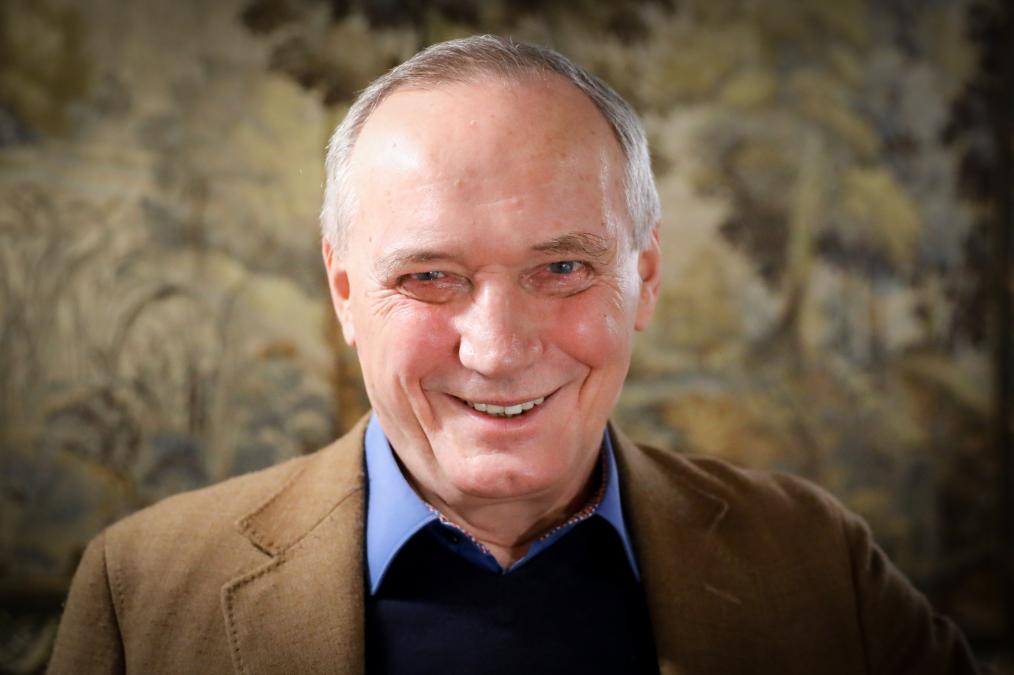 Fot. Beata Zawrzel, Villa Decius
Uladzimir Nyaklyayew – born in 1946 in Smarhon, Grodno Region, a Belarusian poet, novelist and socio-political activist. Author of novels, historical dramas and several poetry volumes, the winner of the prestigious prize of Kurt-Tucholsky. His books have been translated into Russian, Polish, Hungarian, Lithuanian, Swedish and Finnish. He worked as a telegraphist in Siberia and Far East, as well as in a television studio in Minsk as a radio technician. As a journalist, he worked with the newspaper "Znamia Junosti" and the bulletin "Theater Minsk", and was editor of the literary and dramatic programs of Belarusian television. He was the editor-in-chief of the contemporary literature monthly "Krynica" ("Spring"; 1986-1997), editor-in-chief of the cultural weekly "Litaratura i Mastatstva" ("Literature and Art"; 1998), President of the Union of Belarusian Writers (1999-2001) and President of the Belarusian PEN-Club (2005-2009). In 2012, he was nominated for the Nobel Prize by the Belarusian PEN Center and the Belarusian Union of Writers.
In 1999, he was forced to leave Belarus for political reasons. He lived and worked in Poland and Finland. He returned to Minsk in 2001. In 2010, he ran in presidential elections as an independent candidate. On the election day, he was severely beaten by a special police unit and subsequently kidnapped from the hospital and arrested. Amnesty International recognized Uladzimir Nyaklyayew as a prisoner of conscience.

Uladzimir Nyaklyayew is the winner of almost all Belarusian literary prizes, including the Yanka Kupala State Prize, independent prizes, including the Jerzy Giedroyc Award and Natalia Arsenieva Award, as well as international awards: Kurt-Tucholsky-Preis, Bronisław Geremek Prize, Mihai Eminescu Award, and others.
His works published in Polish include poetry volumes Poczta gołębia (Галубіная пошта; Minsk, 1987) translated by Adam Pomorski (Wrocław, 2011) and Pożegnalny gest Zygmunta / Разьвітальны жэст Жыгімонта translated by Czesław Seniuch (Warsaw, 2011) and the novel Automat z wodą gazowaną z syropem lub bez (Аўтамат з газіроўкай з сіропам і без; Minsk, 2012) translated by Jakub Biernat (Wrocław, 2015).
In his work, he focuses on the history of contemporary Belarus. One of his most popular novels, Automat z wodą gazowaną z syropem lub bez, translated into Polish and awarded with the Jerzy Giedroyc Literary Award, presents the fate of the Belarusian generation of the 1960s, telling a story of resistance movements in Europe from a less known perspective. In 2021, he wrote a novel about life in the Soviet Union, Ognista Gehenna. In Belarus, the name of Uladzimir Nyaklyayew is prohibited. He is not mentioned in the media, and his books are not published. The novel "Hej Ben Hinom" ("Ognista Gehenna") was published and presented in Poland and Lithuania.