Umsijja szirijja
- a night of Arabic poetry at Villa Decius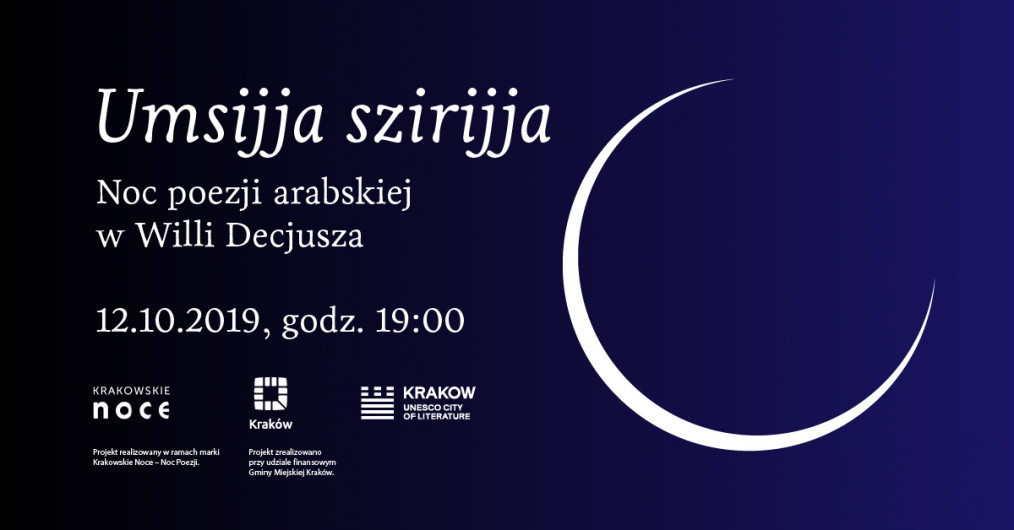 the event Umsijja shirijja (from Arabic "poetry night") is an evening of Arabic poetry, aimed at presenting contemporary traditions and the most important representatives. The hosts of the evening will be Chulud Sharaf, a Syrian poet and literary critic, currently staying in Krakow as part of the International Cities of Refuge Network (ICORN) program, as well as prof. Marek M. Dziekan, Arabist, translator (among others, the volume of Chulud Sharaf, "Reverse Sky", the Znak Publishing House 2019) and a popularizer of Arabic culture.


The program will present the works of the following poets: Adonis, Badr Shakir as-Sajjab, Salah Abd as-Sabur, Mahmud Darwisz, Hatif al-Janabi, Chulud Sharaf and Nuri al-Jarrah. Each loud reading of texts (both in the original language and in Polish translation) will be preceded by a brief introduction by prof. Dziekan, who will present the silhouette of a given poet.
The project implemented under the Krakowskie Noce - Poetry Night brand.
The project was implemented with the financial participation of the Municipality of Krakow.