New resident in Villa Decius
18.03.2021
Aaiún Nin, poet from Angola is the new resident of ICORN programme.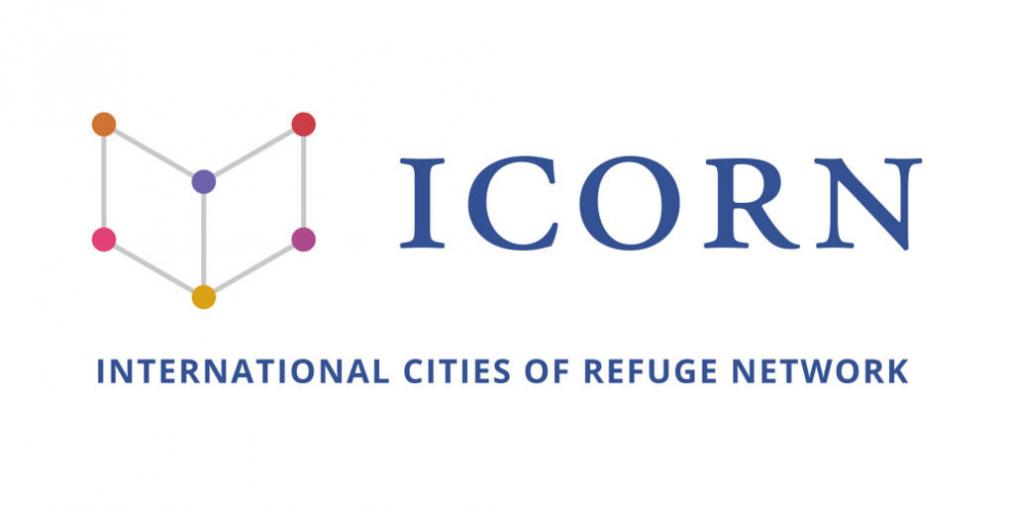 The ICORN International Network of Cities of Refuge program in Krakow is hosting a new resident. In the next two years, Aaiún Nin, a poet, performer, and activist from Angola will be staying in Villa Decius.


The International Cities of Refuge Network (ICORN) was founded in 2005 in Norway, offering asylum to writers and human rights defenders, who cannot live and create freely in their very motherland for they are threatened by persecution. One of the network's originators was Salman Rushdie, author of the "Satanic Verses", which aroused violent protests in the Islamic world and an imposition of a fatwa over the author by Ayatollah Khomeini - a verdict ordering every true Muslim to kill the writer.

According to the idea of Rushdie, the aim of ICORN is the promotion of the indispensable value of the freedom of speech and creation by building up an international network of solidarity and cooperation. During 15 years of the network's existence, it was possible to find temporary shelter for several hundreds of writers, intellectuals, bloggers and human rights activists. ICORN coordinates the Shelter Cities program and also working with individual states, the European Commission, the United Nations, UNHCR and PEN International towards the protection of human rights and the implementation of a protection policy for creators persecuted because of their activities.

ICORN is a network of nearly 70 cities, and its activity is one of the strongest voices in the world defending the right to freedom of speech and expression as well as international solidarity. Cities belonging to the network are i.e. Amsterdam (Netherlands), Barcelona (Spain), Bergen (Norway), Brussels (Belgium), Copenhagen (Denmark), Frankfurt (Germany), Luzern (Swiss), Mexico City (Mexico), Molde (Norway), Norrköping (Sweden), Norwich (Great Britain), Oaxaca (Mexico), Oslo (Norway), Paris (France), Pittsburgh (United States) and Reykjavik (Island).

Krakow joined the International Cities of Refuge Network, with its seat in Stavanger (Norway), in 2011 by virtue of the resolution No. XVI/171/11 of the City Council from 25th May 2011. The very date of Krakow joining ICORN coincided with the celebration of the Czesław Miłosz Year in Poland.
This year marks the tenth anniversary since Krakow joined the International Cities of Refuge Network. Krakow was the first city from Central and Eastern Europe to join the ICORN International Network of Cities of Refuge. Today, Krakow is a member of the ICORN Board, and the idea of supporting writers and human rights defenders who cannot work in their homeland because of persecution has spread to other Polish cities. Until now Krakow has hosted eight writers within the ICORN residency program:

Maria Amelie (real name Madina Salamowa – North Ossetia, today in Norway), Kareem Amer (Egypt, today in Norway), Mostafa Zamaninija (Iran), Lawon Barszczewski (Belarus), Asli Erdoğan (Turkey), Felix Kaputu (Congo), Monem Mahjoub (Libya), and Kholoud Charaf (Syria).

The organizers of the International Cities of Refuge Network Program in Krakow are the city of Krakow, the Villa Decius Institute for Culture – which runs the residency program and provides a place for creative work and support for writers – and the Krakow Festival Office, the operator of the Krakow UNESCO City of Literature program.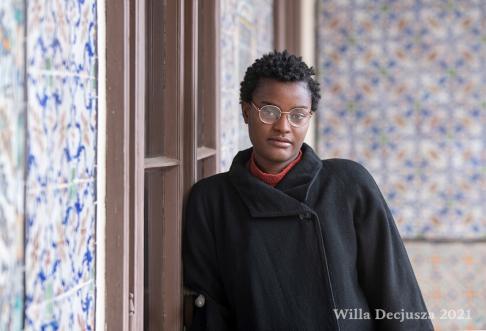 The 9th scholar from ICORN program in the Villa Decius is Aaiún Nin – a poet, artist and activist from Angola.

Aaiún Nin is a poet, mixed media artist and activist from Angola. In her work she addresses the issues of race and sex discrimination, as well as LGBT+ experience. In 2016 she moved do Denmark, where she has worked in collaboration with artists identifying with queer culture (an artistic and political movement oriented towards empowerment and emancipation of non-heteronormative poeple). She has performed her poetry during numerous events, e.g. during Oslo Internasjonale Poesifestival in 2020. Together with her wife she has also appeared in a documentary film 'Women of Water', directed by Patricia Bbaale Bandak in 2017.

Her poetry draws upon the experience of childhood and youth spent in a traditional, patriarchal community and is strongly rooted in the context of postcolonial Africa. In her poems she often refers to the present situation in Angola, addressing problems of sexual violence inflicted on women, religious fundamentalism and the contradictions of Catholic doctrine, social inequalities and racism. Living in Copenhagen Aaiún Nin has also spoken of legal discrimination of immigrants and police violence in Scandinavian countries, and, sympathising with Black Lives Matter movement, she has stressed the need to rethink the hidden racial inequalities and defended the rights of black poeople. Her articles and poems have been published in 'Friktion Magasin', 'Kritiker' and 'Klimaaksjonen' (Norwiegian Writers' Climate Campaign – NWCC).

Although the legislation criminalizing same-sex relations in Angola was overturned and new penal code was supposed to counteract discrimination and hate speech, the homophobic attitude rooted in traditional mentality didn't disappear. LGBT+ people continue to face discrimination in employment, education, housing, and healthcare. Same-sex marriages are illegal, and sexual orientation is still considered taboo, to a large extent as a result of a strong position of Catholic church and the influence it has on common moral judgements. All this means that non-heterosexual people are victims of hate crimes and homophobic attacks, including rape, beatings and police brutality. And for Aaiún Nin, who openly explores homosexual experience in her work, it makes returning to her home country a considerable risk. This is why, after her residence in Denmark has expired, she has decided to embark on a scholarship opportunity in Krakow, where she is going to spend the next two years.



"Undoubtedly, the situation caused by the COVID-19 pandemic presents new challenges to the ICORN network," says Jacek Majchrowski , President of the city of Krakow. "Closing the borders and imposing restrictions on the citizens of the countries of the global South, although aimed at preventing the spread of the virus, further deepens undemocratic mechanisms. Krakow is a city of literature and freedom of expression – bearing in mind our cultural traditions, we want to participate actively in the shaping of ICORN activities that meet the requirements of the present day. I am pleased that the new grant holder, Aaiún Nin, has chosen Krakow and I hope she will find here a creative and safe refuge for two years – there is no better place for this than Villa Decius, an institution symbolizing the important ideas of international openness in our city."

"This year marks 10 years since Krakow joined the ICORN network. We are proud that the impulse for this has come from Villa Decius, which has served as a venue for international meetings for years," - says Professor Dominika Kasprowicz, Director of Villa Decius Institute for Culture. Since then, we have also succeeded in persuading other Polish cities to join the network, and we are happy to share our experience in the implementation of this demanding residence program in Krakow with them. Aaiún Nin is our ninth resident, a talented, courageous, and inquisitive woman. Together with the city and the Krakow Festival Office, we would like to invite you to an online meeting with her, this Tuesday, March 23."

Last December, the independent NGO Freemuse presented their annual report in Krakow, this time devoted to over 100 violations of freedom of LGBTI artists from 40 countries worldwide. Aaiún Nin's poetry and work was mentioned in it. Because of her openness, the author was persecuted in her home country, Angola. Although the Angolan law criminalizing homosexuality has been abolished, and a new law has been passed to combat discrimination and hate speech, in reality the homophobia that is deeply rooted in traditional morality has not disappeared. LGBT+ people face social ostracism, persecution, and stigmatization; they must also endure obstacles in the job market and unequal access to health care, education and property. Same-sex marriages are not legal and sexual orientation is a taboo subject, largely because of the strong position of the Catholic Church and its influence on the formation of the moral standards. All of this makes non-heterosexual people a frequent target of homophobic attacks; they fall victim to assaults, rape, and police brutality. For Aaiún Nin, who openly explores the theme of homosexual identity in her poetry, returning to her home country is a high risk. After four years spent in Copenhagen, she will now be able to stay in Poland for two more years under an ICORN grant.

"We are glad that at this difficult moment we can host in Krakow a writer, poet, and activist who is truly committed to the issues of equality and who speaks out against systemic discrimination against women and racism," says Izabela Błaszczyk, director of the Krakow Festival Office, operator of the Krakow UNESCO City of Literature program. "We are welcoming one of Angola's most interesting contemporary poets, who speaks six languages, whose work is highly appreciated by PEN International, and who, living and writing in Krakow, has the chance to become part of our local literary life and to energize it with new interesting texts, translations, and publications. We are happy to say that her residency has already attracted the interest of publishers, journalists, and national cultural institutions moved by her fate and courage as well as her very original poetic language."

Krakow actively participates in the initiatives of the network and in the debates organized in various cities of the ICORN. In 2013, our city hosted the international 'Writing Freedom' conference in cooperation with ICORN and WiPC (Writers in Prison Committee) of PEN International, which was attended by nearly 200 representatives of literary life: writers, critics, translators, managers, and literary institution activists from 50 countries." Currently, Robert Piaskowski, the Culture Commissioner of the Mayor of Krakow, represents the city of Krakow in the Board of Directors of the ICORN network, which is composed of representatives of the cities of Stavanger, Pittsburgh, Amsterdam, Uppsala, Harstad, and Norwich.