Jubilee concerts
23.08.2020
In autumn 2020, we will officially start the celebrations of the 25th anniversary of the restoration of Villa Decius.

We would like to inform that out of concern for the safety of the public and musicians, and due to the regulations that define the rules for the functioning of the city of Krakow in the red zone, the concert on October 25, 2020 will be held without the participation of the public.

The concert will be recorded and soon available online on our YouTube channel.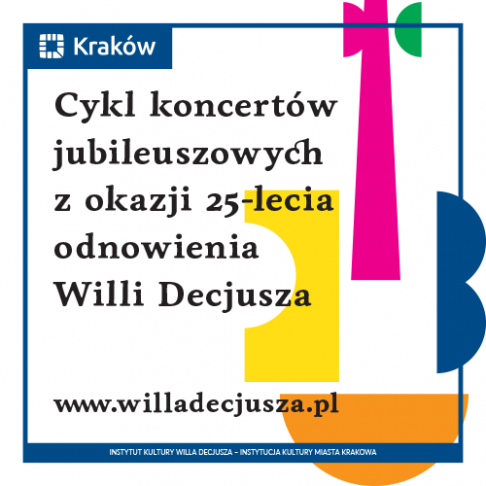 Jubilee concerts
The celebration will begin with a series of 3 concerts of classical music, recalling the long-standing tradition of musical meetings in villas.

 
We invite you to the following concerts:

6 September 2020 at 5 p.m.
The 1st VIOLIN CONCERTO "VISIONS" BY STANISŁAW SŁOWIŃSKI
Final Gala of the Visions promo tour

2 October 2020, at. 5 p.m.
LUDWIG VAN BEETHOVEN SEPTET ES-DUR

Capella Cracoviensis:
Zofia Wojniakiewicz (violin)
Jacek Dumanowski (viola)
Konrad Górka (cello)
Ronald Sebesta (clarinet)
Tomasz Wesołowski (bassoon)
Jairo Gimeno Veses (horn)

25 October 2020, at 5 p.m.

FRANZ SCHUBERT - string quintet C – dur
Allegro ma non troppo - Adagio - Scherzo - Allegretto
FELIX MENDELSSOHN - BARTHOLDY - OKTET E – DUR
Allegro moderato ma con fuoco - Andante - Scherzo:Allegro leggierissimo - Presto

Polish Soloists:
Celina Kotz (violin)
Sebastian Czaja (violin)
Sulamita Ślubowska (violin)
Zuzanna Budzyńska (violin)
Anna Krzyżak (viola)
Tomasz Rosiński (viola)
Jan Lewandowski (cello)
Krystyna Wiśniewska (cello)



Admission free. Advance registration is required.