Melody of the night
Ukrainian music and poetry evening at Villa Decius.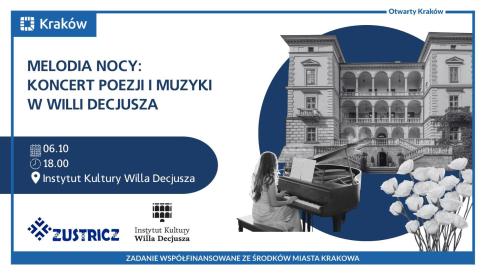 Together with the ZUSTRICZ Foundation, we would like to invite you to a concert entitled 'Melody of the Night' on Friday, 6 October at 6 p.m. at Villa Decius.
To the sounds of guitar and piano, poetry by Ukrainian poets will resound: Julia Witryak, Halyna Kozar, Anna Szpilewska, Euhenia Dyka, Dasha Shcherbatiuk, Elisha Shejko, Daniila Kokin, as well as songs performed by Kateryna Shemejko, Anna Szpilewska and Halyna Kozar.
Poems will be recited by Tetiana Dorozhko and Kateryna Shemeiko. Polish poetry will be performed by Nowa Huta poet Radoslaw Bicz.
Oleksandr Khmilovskyi will play his own works on the guitar, and Michal Malewski and Anna Konovalova (Szpilewska) will play the piano.
Registration is required for the meeting: https://forms.gle/SDE1RQc5eXqYEQek6