Aaiún Nin "Broken Halves of a Milky Sun"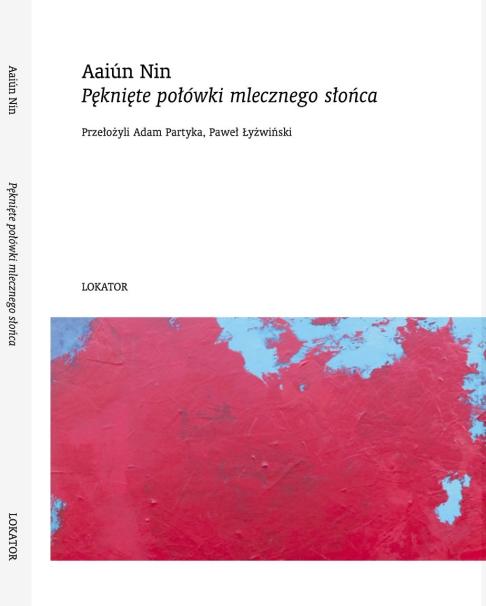 translated by Paweł Łyżwiński and Adam Partyka
Lokator 2022

Aaiún Nin's volume of poems "Broken Halves of a Milky Sun" was published in June 2022 by the Lokator publishing house in Krakow as part of the Villa Decius Institute for Culture publishing series under the patronage of Krakow UNESCO City of Literature.

In their debut volume Aaiún Nin deals with the memories of childhood and youth spent in Angola, and the experience of migrating to Europe, accompanied by the discovery of a non-heteronormative sexual identity. "Broken Halves of a Milky Sun" is not an exotic postcard from warm countries. It is a shocking picture of the reality of postcolonial Africa and a ruthlessly honest manifestation of disagreement. Aaiún Nin traces the consequences of the patriarchal order of modern Angola, exploring the themes of sexual violence against women, religious fundamentalism and social inequalities, and makes a devastating criticism of the anti-immigrant policies of Western countries, exposing racism permeating the First World societies. The best metaphor for the landscape of neglected African cities, which serve as the background for these poems, and for the issues raised by them, is the author's painting on the cover - inspired by the destroyed façades of Luanda's colonial buildings and reminiscent of the borders of continents and countries that hold back crowds of people seeking refuge today.
The result of this search is an extremely personal book, and at the same time aware of the broad geopolitical context; devastatingly honest and inexhaustible. Although the diagnoses contained in it are depressing, it does not stop at despair, but in the midst of injustice and suffering finds hope and joy that, in this dark time, flow from building and maintaining interpersonal relationships and cherishing the memory of our roots.

"Broken Halves of a Milky Sun" is a rousing and bold poetic voice that exposes colonialism, war, patriarchy and racism, and is at the same time a passionate tale of love, body and desire.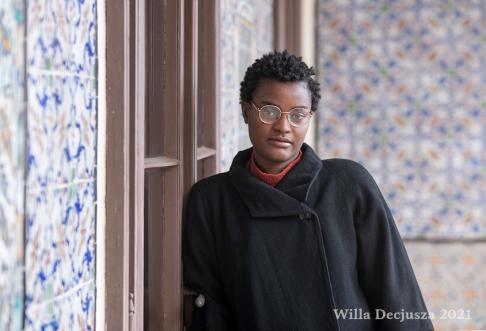 Aaiún Nin is an Angolan poet, mixed media artist and activist. Through their work, they explore and confront issues of race, gender and sexual discrimination, as well as LGBT+ experience. Their first poetry collection, Broken Halves of a Milky Sun was published in 2022 in the USA.

Nin's poetry draws upon the experience of childhood and youth spent in a patriarchal society and is strongly rooted in the context of postcolonial Africa. In their poems they often refer to the present situation in Angola, addressing problems of sexual violence inflicted on women, religious fundamentalism and the contradictions of Catholic doctrine, social inequalities and racism.

Since moving to Denmark in 2016, they have worked in collaboration with artists identifying with queer culture and have been an outspoken voice regarding the legal discrimination of immigrants and police violence in Scandinavian countries. Their articles and poems have been published in Information, Untold Pages, Kritiker, Friktion Magasin, Forfatternes Klimaaksjon and hvermandag.dk. Nin has performed at numerous literary festivals, such as Oslo International Poetry Festival, Sound + Literature in Aarhus, and Louisiana Literature Festival in Denmark. The leading Danish newspaper, Politiken, called Nin a "great, rare talent in Danish literature."

They currently live in Krakow, staying in Villa Decius as part of the ICORN Residency Program.