Theater art workshops at Villa Decius
The Villa Decius Institute for Culture, in cooperation with The Polish Modern Music Institute Foundation, invites you to a two-day workshop on the art of theater, led by experienced director and choreographer Dmitri Vovk. The concept of the workshop is based on the methods and techniques of classical and modern theater, pantomime, dance and practical pychology.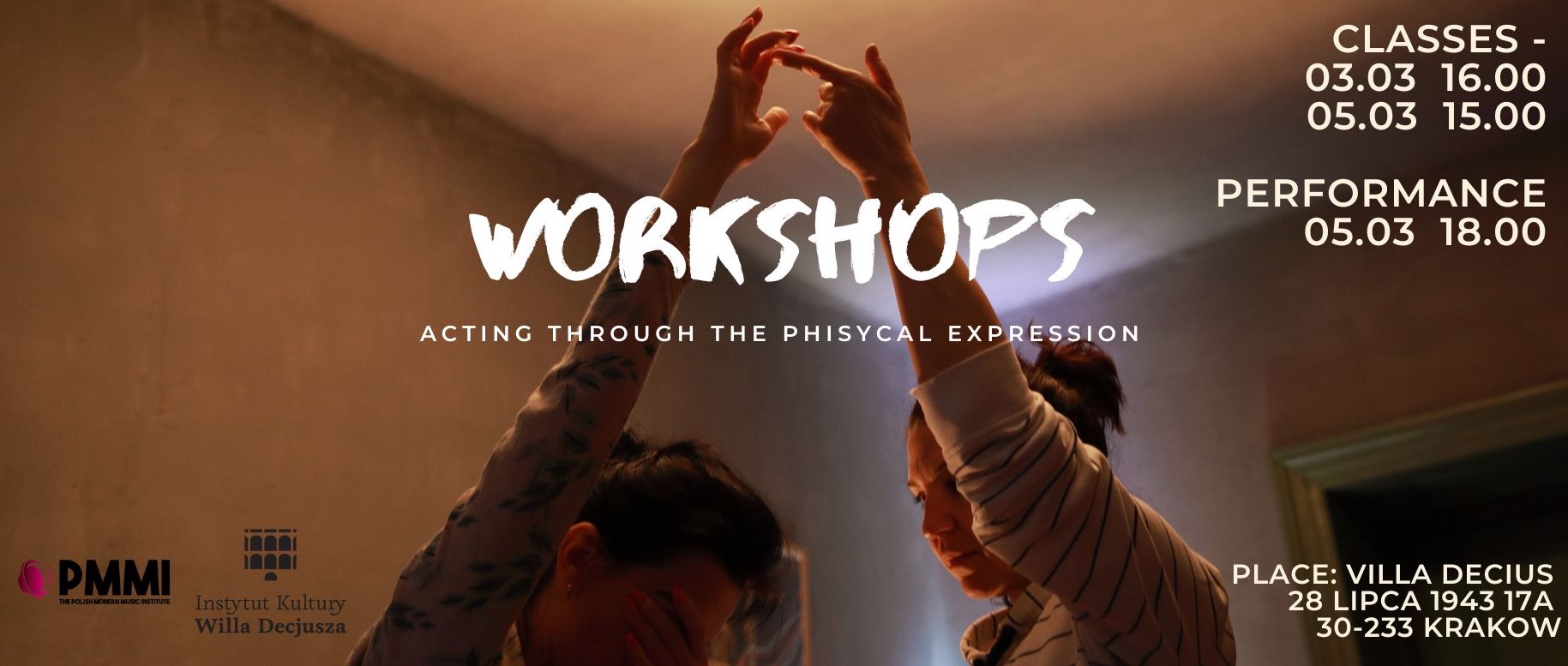 The workshop will be held at Villa Decius on:
- 03.03.2023, Friday, 4:00-19:00 pm
- 05.03.2023, Sunday, 3:00 pm - 6:30 pm
Participants in the workshop will gain new skills and knowledge in techniques of working with the body and space, specific themes and how to make a sketch through the body, working with a partner, expressive performance on stage and also expressing thoughts and feelings. The workshop program will use the methods of Etienne Decroux and Marcel Marceau, Franco Dragone (director of Cirque du Soleil), physical theater of Lana Biba (Marcel Marceau's last student), Vasya Kozar, classical theater, contemporary theater and psychology, among others.
As part of the event, each of you will be able to decide for yourself what role and how you want to engage in the workshop. From among the available options, you can choose the role of:
- participant in the workshop;
- spectator during the final performance (Sunday, 5.03.2023);
- a streaming viewer covering the final performance (streaming will be available on the social media channels of The Polish Modern Music Institute Foundation);
- a donor/funder wishing to support the goal of the charity collection conducted as part of the workshop
The Polish Modern Music Institut Foundation, as part of its statutory activities, supports Ukraine by conducting a charity collection. The proceeds from the purchased tickets will be donated in part to the "Serhiy Prytula Foundation" and to help the youngest victims of the wartime exodus - children who, fleeing the war, found refuge in Krakow and Malopolska.
More information available at the link:
https://fb.me/e/2vqhlRkVM
We encourage you to join the event:
Registration for the workshop
-
https://forms.gle/UEH5tRrkDDfSWts89
Tickets - bricks can be purchased through the EVENEA portal -
https://app.evenea.pl/event/warsztaty-aktorskie-dymitr-vovk/