Take a tour of Villa Decius
Enjoy guided and individual tours of the Villa Decius.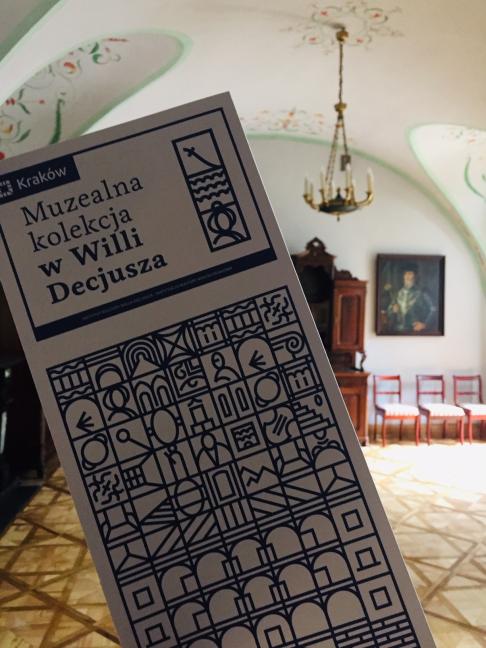 You are welcome to visit Villa Decius with a guide and individually.
Villa Decius, built in 1535 near Krakow in Wola Justowska, is one of the most beautiful and complete examples of a Renaissance suburban residence. From the 16th to the 19th century it was home to distinguished families, such as the Decius family, who were the first owners, followed by the Lubomirski family, the Sanguszko family, the Kuczkowski counts and the Czartoryski principality, among others. The exhibition of paintings from the District Museum in Nowy Sącz and furniture from the National Museum in Krakow in the interiors of Villa Decius is a substitute for the magnificent furnishings that its former owners surely ordered for their estate. Four prints by Krzysztof Skórczewski are on display in the Main Hall of Villa Decius: "View from the Window" (1991), "Villa Decius" (2008), "Chinese Gate" (2016) and "New Empire" (2021). On the first floor of the Villa, paintings by the Cracow artist Beata Zuba are presented. An architectural curiosity of the Villa is the loggia equipped with unusually beautiful oriental tiles, brought to the Villa in the 19th century by Marcelina Czartoryska.
In March, Villa Decius is open to visitors on the following dates:- on Sundays
(5, 19, 26 March ) from 11.00 to 18.00 and on 12 March from 11 a.m. to 3 p.m., and at 5 p.m. we invite you to a Chopin recital performed by Professor Andrzej Pikul (Piano Department of the Krzysztof Penderecki Academy of Music in Kraków),
- on Tuesdays
(7, 14, 21, 28 March) from 11.00 to 18.00,
- on Thursdays
(9, 16, 23, 30 March) from 11.00 to 18.00.
Guided tours in polish language
(included in the price of the entrance ticket),
- on Thursdays:
March 9, 16, 23, 30 at 1 pm,
- on Sunday,
March 26 at 1 pm.
The last entry takes place no later than 45 minutes before closing.
Price list for tickets:
1) Normal ticket - 12 zlotys
2) Discounted ticket - 10 PLN
3) Family ticket (2 adults + min. 2 children under 16 years of age or 1 adult + min. 3 children under 16 years of age) - 30 zł
Tickets can be purchased at Villa Decius (cash payment).
Please be advised that due to the reconstruction of Królowej Jadwigi Street, the following changes in traffic organization will apply:
- the section from Robla to 28 Lipca 1943 street will be closed
- shuttle traffic will be introduced on the section from Jesionowa street to 28 lipca 1943 street
- one-way traffic on: Na Błonie Street (from Hamernia Street to Zarzecze Street); Borowy Street; Pększyc-Grudziński Street; Wyrwy-Furgalskiego Street (towards Królowej Jadwigi Street).
Detailed public transportation changes regarding traffic in the vicinity of Villa Decius available here:
https://ztp.krakow.pl/transport-publiczny/komunikacja-miejska/komunikaty/387-2022?fbclid=IwAR27AoziBnOCus9IpBN2NmpE1I6ZqyQ7a4J0CtmBxsoDSY-zS7v9ceZdLNg